A multipurpose bot with (permanent) cross-server chat, many commonly needed utility features (think reaction roles, starboard, etc), fun features like one word sentence, and music to top it all off.
Luwu - A multipurpose bot
Thanks for checking my bot out! You will find these features:
Chatlink - Moderatable Cross-Server chat across many channels. Includes automatic image filtering.
Music - Includes built-in playlists, volume, and radio (kind of glitchy in V3, hope to fix in V4)
Starboard - React with a set number of a set reaction to move messages to their own special channel, where people can continue to vote for the messages.
One-Word sentence - A game in which users can only use whitelisted word and can only say one word at a time. The bot keeps track of the sentence automatically.
Suggestion Channels - User suggestions are converted to an embed with check and x reactions. If no output channel is specified, the input and output channels are the same, but you can set separate input and output channels.
Autorole - Give users roles when they join the server. (In V4, I will be adding more options)
Reaction Roles - Users can click on emojis to give themselves roles
Message logs - Log message deletions/edits (in V4, this will be extended to include all Discord/Nertivia events)
Moderation - just some simple moderation. Message purge command allows filtering users, and selecting multiple channels. (In V4, I will be adding DM notifications (V4 Demo available) and a modlog channel (No demo available))
A hug command - Almost did not make the long desc, but people seem to like it.
And commands beyond this! Be sure to check out the help pages to dig in!
Things coming out in V4
THESE ARE NOT AVAILABLE YET (But you may be able to request a demo!)
(V3 Alpha Demo available) Battle game - Please DM me for the V3 Alpha Demo. In V4, I will be adding a multiplayer battle game.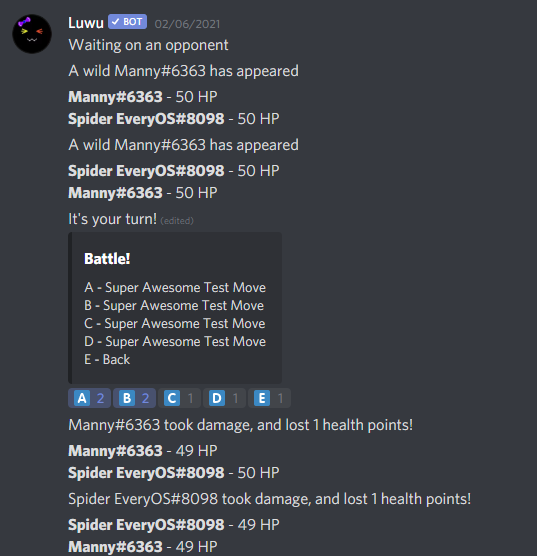 (V4 Demo available) Nertivia Support - Please DM me for the V4 Demo. V4 of the bot will also work on Nertivia. When I write chatlinks for V4, it means you can make
(No Demo available) Custom interactive stories/games - Look forward for the ability to make interactive games in V4.
(No Demo Available) Turkish support - Technically V3 has the infrastructure to do it, but I never bothered
Like this bot?
If you like this bot, I would appreciate if you starred my GitHub repository.