60+ Filters | 150+ Radios | 70+ FMs
Omniverse Music
The only music bot you are looking for!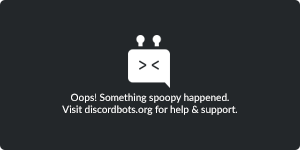 Hello, Have you ever heard a music bot with 80+ Filters, 75 FM Radio Stations,180+ Radio Stations? Meet Omniverse, A Discord Music Bot developed by Omniverse Development
Omniverse is the only Discord bot that comes packed with 80+ Audio FIlters! It also has premium plan just at 2$/Month which allows you the following perks:
Use all available audio filters.
If you are a server owner, then your members can also use filters for free.
If you have alt accounts, We will give premium to your alt account for free!
One premium for all 7 bots. x You need to stay in support server to keep your plan active. x To get more details about premium plan, visit the support server.
Lets talk about some spicy features of omniverse now.
1. It stays 24/7 in Voice and Stage Channels. All you have to do is execute the join command :D.
2. Tired of voting for using premium commands? With Omniverse you can use any command without needing to vote for any command as well as enjoy lower command cooldowns that is less than 3 seconds. Amazing! Right?
3. 80+ Audio filters, 180 Radios and more to come! Omniverse is the only discord music bot that comes with 80+ audio filters to boost up your experience with music on discord! More filters to come soon It also comes with radios of various countries to spice up things for you! Thanks to Tomato#6966 for the radio command! :o
4. Multiplle types of prefixes! Omniverse supports multiple types of prefixes for almost all type of users! Supported Prefixes are:
lowercase/uppercase prefix (o- and O-)
Mention as a prefix.
Reply Prefix (see image attached)
5. Easy to use for beginners! If someone is new to the bot and mentions the bot, The bot will respond with prefix and some details about using the bot! This allows users to learn how to use the bot :D
6. Need for Music! No Limits! We dont push limits to commands like limit on song duration or limit on amount of seconds to seek/forward/reverse! You can play song of any duration without any problem!
7. Smart bot and voice state detection sytstem. Omniverse automatically detects if the voice/stage channel is empty or has only bots in it. If the channel is empty or there are only bots in the channel, Omnivese will stop playing just to save resources for other users :) Bug hunters are welcomed to find out bug with this system!
8. 7 Clones to invite! Omniverse is not alone! It comes with total 7 Clones that you can invite! In invite command, you will not find link for 7th.
9. Command and their description :v You can get help about a command if you execute the command in this format: o-[COMMAND] -help Here is a list of commands,
about - Check our privacy policy and some details of the bot.
addpremium - Add premium to a user. [Owner Only]
autoplay - Toggle autoplay mode. [Currently disabled, changes going on to bing back this command]
back - Play the previously played song.
clear-queue - Clear the queue of the player.
disconnect - Disconnect the bot from VC.
eval - Execute javascript codes [Owner Only]
filters - Check the currently enabled filters.
fm - Play one of your favourite FM!
forward - Forward the current song by 10 Seconds.
If forward time is too long, bot might lag or freeze.
help - Used to see the command list of the bot.
join - Make the bot join VC.
If command is executed properly, the bot will not respond.
jumpto - Jump to a selected song in the queue.
loop - Toggle queue repeat mode.
lyrics - Sends the lyrics of requested song.
nowplaying - Get details about currently playing song.
pause - Pause the currently playing song!
play - Plays audio and starts the party!
playskip - Plays audio and starts the party!
queue - Get the player queue.
radio - Play one of the best live Radio Station!
reload - Reload the bot commands. [Owner Only]
remove - Remove a selected song in the queue.
removepremium - Remove premium to a user. [Owner Only]
repeat - Toggle song repeat mode.
replay - Replay the song from start.
resume - Resume playing the song.
rewind - Reverse the current song by 10 Seconds.
save - Save the current queue right away in your DMs!
seek - Set the song position from current position.
shuffle - Shuffle the queue.
skip - Skip the current song.
skipto - SKip to a selected song in the queue.
stop - Stop the player
support - Link for the home of the bot!
swap - Swap position of songs in the queue.
uptime - Check the stats of the bot! [Owner Only]
volume - Set the player volume.
Thank You!!!!